---
nPOD Islet Isolation Program (IIP)
& Planning Webinar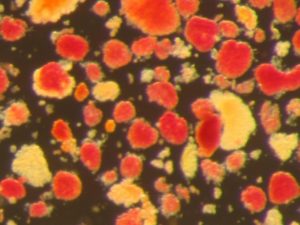 ---
Dear Colleagues and nPOD Investigators:
You may be aware that nPOD has recently received renewed financial support from the JDRF and the Helmsley Charitable Trust, and will continue to recover tissues from organ donors in support of T1D research. As part of this renewal, the nPOD Islet Pilot is now transitioning into the nPOD Islet Isolation Program (IIP): the nPOD IIP will isolate islets from organ donors with T1D (including those with recent onset) and autoantibody positive donors. We are hopeful that there will be 4-5 isolations per year.
Initially, the nPOD Islet Pilot was prudently restricted to a few investigators so that feasibility could be determined. During the pilot phase, we performed successful isolations from four donors. These donors were 14-24 years-old and had had T1D for 0.43 to 6 years. Given that they had T1D, the resulting isolations yielded a limited number of islet equivalents (IEq), ranging from 27,000 to 108,500 IEq.
Informed by the lessons learned during the pilot phase, our expectation is that the nPOD IIP can provide access to samples to a large number of investigators, and that developing the plan around the activities of the nPOD Working Groups will 1) support ongoing and collaborative research efforts and 2) exploit synergies and opportunities for sample sharing to maximize research utilization. Therefore, with this letter, we are inviting investigators and the nPOD Working Groups to engage in the planning of the scientific activities that will be supported by the nPOD IIP and use tissues from these donors (islets, tissue sections, spleen, and lymph nodes) to further their goals.
We pose that with an anticipated recovery of 4-5 donor/year, a meaningful plan should be made for a three-year span with a projected analysis of about 15 cases, which we would predict may include 10 donors with T1D and 5 with single or multiple autoantibodies. Moving forward, the following are acceptance criteria for the nPOD IIP:
Type 1 Diabetes (T1D):
Donors must be ≥ 12 years old
T1D duration ≤ 3 years
Autoantibody Positive (AAb+):
Donors must be ≤ 30 years old
No clinical diagnosis of T1D
Positive for at least 1 or more autoantibodies (to GAD, IA-2, ZnT8, or insulin)
Each working group plan should include the donor types that will be studied (T1D, AAb+, or both), the assays to be run, the groups that will run each assay, the tissue samples needed, and the amount of tissue needed from each donor for the proposed assays. When designing the plan please keep in mind that IEq will be limited. Developing links with other working groups for sample sparing or sharing will be a major plus, and we will facilitate that; several investigators operate in multiple groups, which should also help this process. Of course, we are fully committed to facilitate interactions and we will support the development of such plans. We will be in touch soon to seek input from the groups and develop a robust plan.
We are operating on a tight timeline. We plan to have a webinar on Thursday, January 25, 11am to 1pm EST, to review and discuss initial input received from working groups and individual investigators. Click here to download the calendar event with WebEx link.
This will be followed by additional interactions with the goal of presenting an actionable plan at the nPOD Annual Meeting, at the end of February. If you are an investigator who is not currently affiliated with any nPOD Working group, you can still contribute and request to join the plan. The most effective way to do this is to submit a study application to the nPOD Tissue Prioritization Committee, which will review it and if feasible facilitate inclusion in the overall plan. Such an application can be submitted at any time, even after the aforementioned plan is developed. We envision this plan and activity to be flexible and responsive to new ideas, research needs and opportunities.
Please direct any questions, comments or suggestions to Joseph Pobee
We look forward to working with you!