nPOD Viral Workgroup
After months of hard work and an overwhelming spirit of collaboration, the nPOD-Viral working group, which focuses on the role of viruses in type 1 diabetes, has defined key questions that the group will address together. The work has been organized in major tasks, and experimental plans have been developed and submitted for funding. This innovative and expansive project will utilize the expertise of nPOD-investigators from all over the globe.
Preliminary work is ongoing, and the group will have an opportunity to meet for a joint symposium with the VIDIS (Virus in Diabetes International Study) Group and other leading investigators to discuss topics related to viral etiology and further leverage collaborative opportunities. At the end of the symposium the nPOD-Viral group will meet for face to face discussions of the groups' work and progress. The symposium will be held in conjunction with for this year's EASD meeting in Berlin (October 1-5, 2012).
New Technologies at nPOD's OPPC
In addition to the normal array of tissue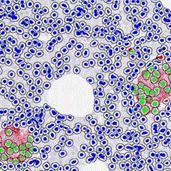 processing and distribution services provided by nPOD's OPPC, they have recently added new image analysis programs that allow for clearer identification of cells within islets. This software is now part of the baseline histopathological characterization done by OPPC.
The software counts cells and whether they are co-stained with insulin and/or Ki67.
Congratulations to the following new nPOD Approved Investigators!
Reza Abdi & Marwan Mounayar: Intrinsic immunoregulatory defect of bone marrow mesenchymal stem cells (BM-MSC) from T1D patients
Vitaly Ablamunits, Kevan Herold & Jasmin Lebastchi: Comparison of total pancreatic insulin content and peripheral markers of beta cell function and destruction
Yuval Dor & Benjamin Glaser: Markers of stress in diabetic islets
Abdel Hamad & Thomas Donner: Fas Ligand: Unorthodox target for prevention of type 1 diabetes
Richard Lloyd & Joseph Petrosino:Virome and microbiome in T1D onset
Srinath Sanda: Analysis of beta cell senescence in T1D subjects
Antonio Toniolo, Andreina Baj & Roberto Accolla: Detection of enteroviruses in lymphoid tissue of donors with T1D of short duration and attempts to identify the infected cell type(s)
Shannon Wallet: Role of mucosal epithelium in autoreactivity